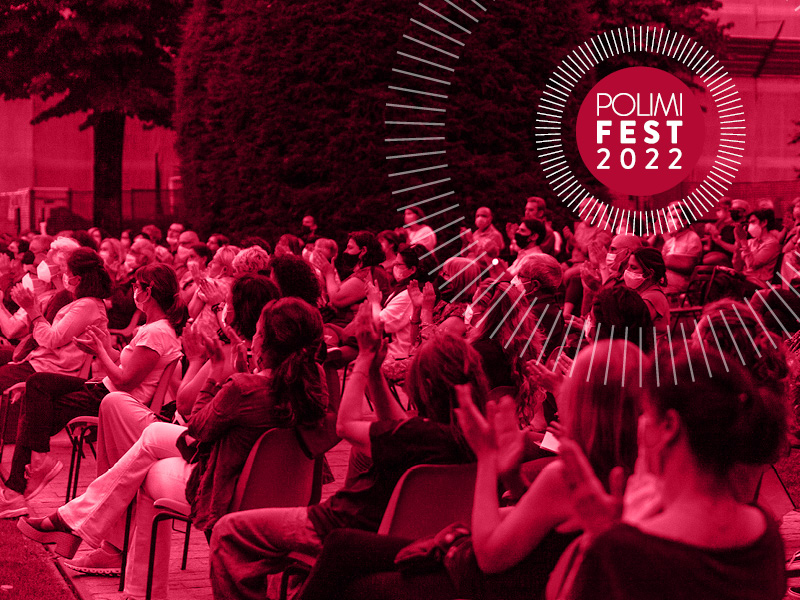 Polimifest, the rich schedule of meetings, shows, cineforums organized by Politecnico di Milano and open to all citizens, returns again this summer for its seventh edition.
This year, the events will be held at: Internal Gardens of Leonardo Campus, at Giuriati Sport Center and at Piazza Leonardo da Vinci.
The movies screenings will always start with the introduction of expert professors.
Polimifest @ Giuriati Sport Center
Monday 13th June at 9.00 p.m.
Show
"Italia Mundial"
With FEDERICO BUFFA
Director: Marco Caronna. Piano: Alessandro Nidi

Polimifest @ Giardini Campus Leonardo
Wednesday 29th June at 9.00 p.m.
Cabaret and music show
"Stretching Emotivo"
With MILAN 5.0 (Rafael Didoni, Germano Lanzoni, Walter Leonardi, Folco Orselli, Flavio Pirini)
Wednesday 13th July at 9.30 p.m.
Movie projection
THE FRENCH DISTPATCH (2021)
Director: Wes Anderson. United States – Germany. Duration: 108 minutes.
Introduced by Roberto Dulio, professor of History of Architecture.
Wednesday 20th July at 9.30 p.m.
Movie projection
DON'T LOOK UP (2021)
Director: Adam Mckay United States of America. Duration: 138 minutes.
Introduced by Pierluigi Di Lizia, professor of Aerospace Mechanics.
Wednesday 21st September at 9.30 p.m.
Movie projection
ARIAFERMA (2021)
Directed by Leonardo Di Costanzo. Italy – Switzerland. Duration: 117 minutes.
Introduced by Francesca Piredda, Professor of Design Communication.

Polimifest @ Piazza Leonardo Da Vinci
Wednesday 14th September at 9.00 p.m.
Concert
"Io in blues"
IRENE GRANDI
With Irene Grandi, voice; Max Frignani, guitar; Piero Spitilli, bass; Fabrizio Morganti, drums; Pippo Guarnera hammond