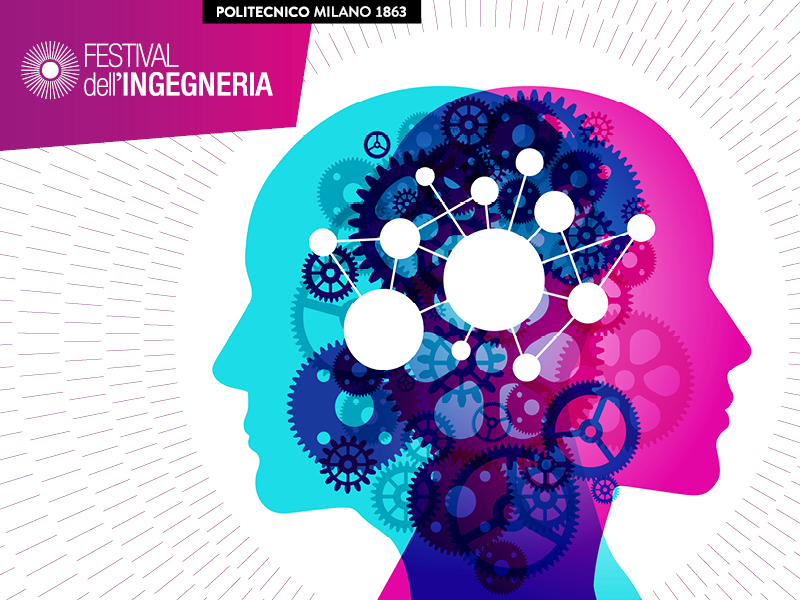 We present the First Edition of the Festival dell'Ingegneria to be held at the Politecnico di Milano – Campus Bovisa from 10 to 12 September 2021.
How to show in just 3 days all the fervent activities in the laboratories, the ongoing research, the history of the pioneers of science, the beauty and thrill of a discovery?
We will do this through a Festival dedicated to Engineering in which teachers and researchers will take turns to tell adults and children about their life in the laboratories of the Politecnico di Milano and the many achievements. Three days of popular events, open workshops, events for children, cineforum, shows, evening performances and much more, to offer the opportunity to live an experience that is both fun, educational and above all stimulating for adults and children.
All events will be by reservation and with limited places for compliance with COVID regulations.
The schedule of initiatives is organized as follows:
AL CINEMA
Screening of films related to engineering issues with the introduction of our experts
IN SCENA
Protagonists of the world of theater will give voice to works that have made the history of great scientific discoveries.
POLIMIforKIDS
Lessons, experiments, games and performances dedicated to the kids, from 7 to 13 years of age.
POLIMIopenLABS
Guided visits by appointment to the engineering laboratories to bring visitors of all ages closer to scientific culture
VISIONI POLITECNICHE
Informative meetings to discover the future of science
PROGRAMME
10 september 2021
18:00 – Dallo Spazio alla Terra – Opening event
20:00 – E-dAncity show – Contemporary dance and electronic music performance

11 september 2021
POLIMIopenLABS
from 10:00 to 18:00 Guided visits to the research laboratories
ore 10:00 / 17:00 – SAS-Lab – Vieni a scoprire come naviga un drone 
POLIIMIforKIDS
ore 10:00 – 11:30 – 14:00 – 15:15 – 16:30 – Pronti al lancio! – Christian Paravan
10:00 – Giocare con i videogiochi – Pierluca Lanzi
11:30 – Yape, il postino automatico– Matteo Corno
15:00 – Chimica esplosiva: solidi, liquidi e gas– Fabio Parmeggiani
16:00 – Cappuccetto Rosso (versione 3.14) – Domenico Brunetto
VISIONI POLITECNICHE
ore 11.30 – Cina-USA: perché la paura non innescherà la trappola di Tucidide – Giuliano Noci
12:10 – Futuri possibili – pre-visioni politecniche – Cristiana Bolchini
15:00 – Plastica: il materiale che la natura si era dimenticata di inventare. L'entusiasmo del passato, la paura del presente, il realismo del futuro – Maurizio Masi
15:40 – La Transizione energetica: i prossimi passi – Giovanni Lozza
16:20 – Algoritmi per un nuovo mondo – Alfio Quarteroni
17.00 – … e infine uscimmo a riveder le stelle – Tommaso Ghidini
IN SCENA
17:00 – Literary Reading in collaboration with the Piccolo Teatro di Milano
AL CINEMA
ore 18:00 – The Electric house
Film muto accompagnato da violino e pianoforte. Musiche originali di Rossella Spinosa.
MOSTRA
ore 19:00 – Epi-genesi | Esposizione di Jonathan Guaitamacchi a cura di Francesca Brambilla, performance sonora di Giorgio Li Calzi.
12 september 2021
POLIMIopenLABS
from 10:00 to 18:00 Guided visits to the research laboratories
POLIIMIforKIDS
10:00 – Forme e Formule: la magia della Matematica in Natura– Pasquale Ciarletta
11:30 – Come funziona un'alluvione– Francesco Ballio
15:00 – La fisica dei super eroi– Andrea Picone
16:00 – Shake and roll: avventure nel misterioso mondo dei terremoti – Maria Giuseppina Limongelli
VISIONI POLITECNICHE
15:00 – In un futuro materico – Ingrid Paoletti
15,40 – Terra, Luna, Marte, Sole e i motori nucleari – Marco Ricotti
17,00 – La scienza delle stelle e delle pietre: introduzione all'Archeoastronomia – Giulio Magli
IN SCENA
17:00 – Literary Reading in collaboration with the Piccolo Teatro di Milano
AL CINEMA
18:00 – Tenet by Christofer Nolan
CONCERTO
20:30 – Four On Six | Matteo Mancuso