1 March 2021 18:00Ripensare università e ricerca per competere nell'economia della conoscenzaOnline Event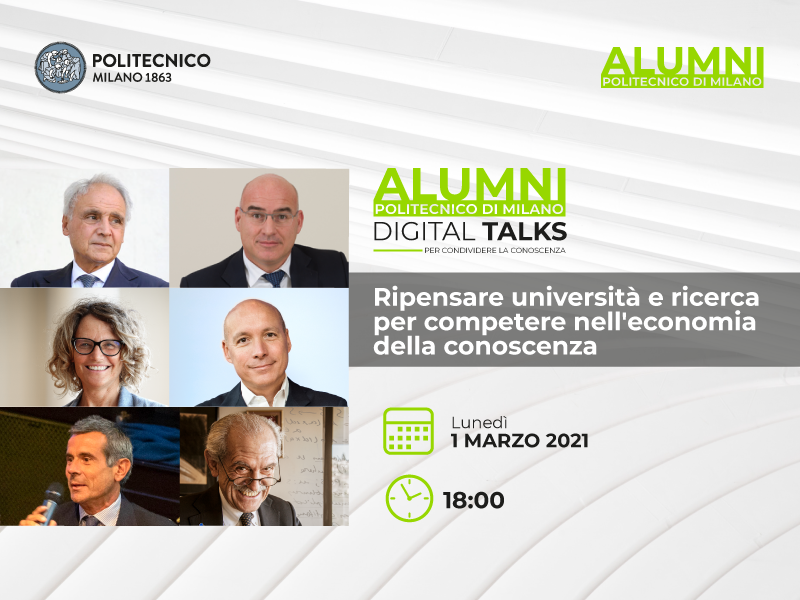 Talks
An event of the Digital Talks series organized by Alumni of Politecnico di Milano.
The event will be an opportunity to discuss the essay by Alumnus eng. Roger Abravanel "Aristocracy 2.0 | a new élite to save Italy" (Solferino editions).
The essay, written by Alumnus and member of the Advisory Board of the Politecnico di Milano Roger Abravanel, tells how the challenges of the post Covid require a deep transformation of our economic paradigm to exploit the opportunities of the acceleration of the knowledge economy and the birth of a new ruling class, which the author defines as a new aristocracy of talent and education.
Abravanel outlines interesting development scenarios for the university system in the knowledge economy.
The comparison will address the following topics:
Why is the knowledge economy leading to a deep global transformation in the world of university and research?
What do the best Italian universities lack to compete successfully in this transformation?
In conclusion, how to start the transformation towards a university of excellence? What concrete proposal is outlined in the essay?
Together with the author, Alumnus Roger Abravanel, also the rector Ferruccio Resta, the president of the Alumni Politecnico di Milano Enrico Zio and the Alumni Paolo Bertoluzzo, Elena Bottinelli and Alberto Sangiovanni-Vincentelli, who will bring an international perspective on the impact of the knowledge economy on universities, on the world of venture capital of large digital companies, health care and life science.
Speakers:
Roger Abravanel | Director Emeritus McKinsey, advisor e saggista
Paolo Bertoluzzo | CEO Nexi
Elena Bottinelli | AD IRCCS Ospedale San Raffaele e IRCCS Istituto Ortopedico Galeazzi
Ferruccio Resta | Rettore del Politecnico di Milano
Alberto Sangiovanni Vincentelli | The Edgar L. and Harold H. Buttner Chair of EECS, University of California, Berkeley
Moderator:
Enrico Zio Rector's Delegate for Alumni and President of the Association of the Alumni of Politecnico di Milano
Organizer
Alumni Politecnico di Milano