8 November 2021 until 11 November 2021Heritage Management: Musealization or Use?Online event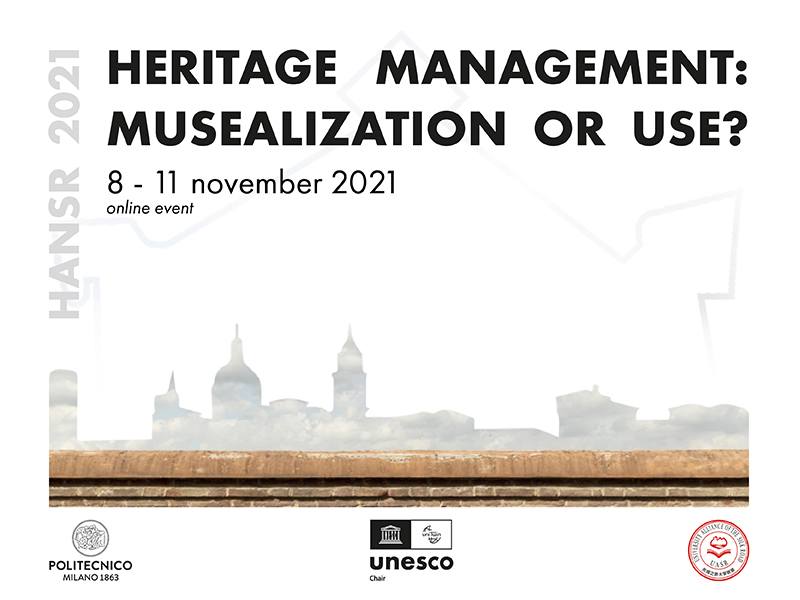 Conferences
Event Details
HANSR ROUNDTABLE
Conference on Zoom in English
The 2021 edition of the Roundtable, organized by the Heritage Alliance of the New Silk Road and hosted online by Politecnico di Milano, focuses on the status of the architectural and archaeological heritage after its restoration and subsequent accessibility. The discussion revolves around the opportunities offered by heritage sites, going beyond the traditional musealization and exploring innovative practices, more interactive and embedded in social contemporary life.
The sessions deal, from an international prospective, with the juxtaposition/coexistence of traditional museum, dispersed museum, space and public function. They include also topics as the impact of mega-events on urban heritage, the pandemic effects, the corporate heritage, the status of heritage building in an ever-changing urban environment. The third session is specially dedicated to the point of view of the young generation.
Register here to join the Conference
The Heritage Alliance of the New Silk Road (HANSR) is a University network which includes: The University of Liverpool, Xi'an Jiaotong University, Nazarbayev University, The Hong Kong Polytechnic University, The University of New South Wales, Bauman Moscow State Technical University, State University at New York Buffalo, Washington University in St. Louis and Politecnico di Milano.
Time
8 November 2021 until 11 November 2021