3 June 2019 until 5 June 2019Softening the Habitats. Sustainable Innovation in Minimal Mass Structures and Lightweight Architectures6th International TensiNet Symposium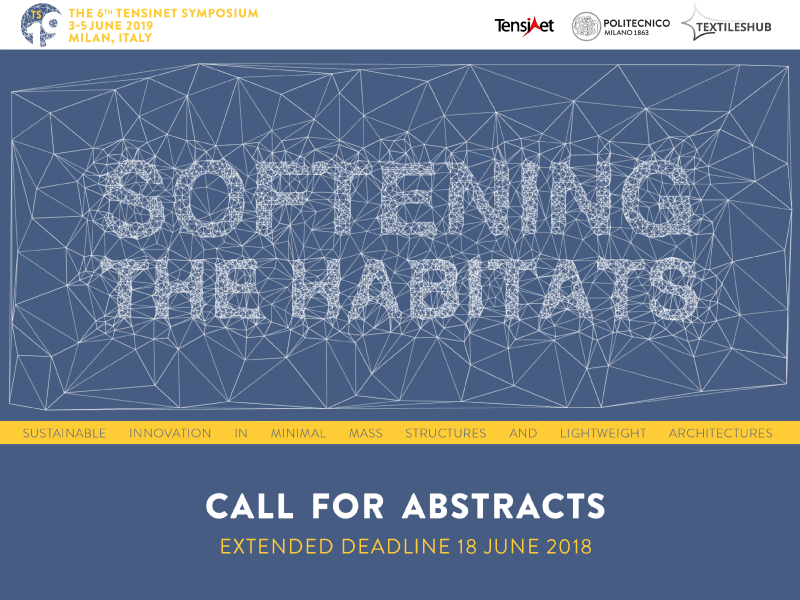 Conferences
The 6th International TensiNet Symposium Softening the Habitats: Sustainable Innovations in Minimal Mass Structures and Lightweight Architectures will take place from the 3 to 5 June 2019 at Politecnico di Milano, in Milan, Italy.
The 2019 TensiNet Symposium (TS19) is organized and hosted by the TensiNet Association and in particular by Politecnico di Milano (PoliMi) and Textiles Hub, which is an interdepartmental research laboratory on textiles and polymers at PoliMi.
The 2019 TensiNet edition will open a twofold reflection – by means of both the conference TS19Conf and exhibition TS19Exhib – on current innovations, trends and strategies in the field of lightweight membrane structures and mainly on the future of those technologies, which the TensiNet Association is interested in: tensile and pneumatic structures, textile architecture, membranes and foils, ultra-lightweight constructions and structural skins.
The call for abstracts will end on 31 May 2018.
Conference website: www.tensinet2019.polimi.it.
Time
3 June 2019 until 5 June 2019

Location
Politecnico di Milano
Piazza Leonardo da Vinci, 32