21 October 2021 14:30 at 16:30October 21 - Guided tour to Exhibition of the physical and digital prototypes made during the Workshop "Yasmeen Lari's Humanitarian Architecture"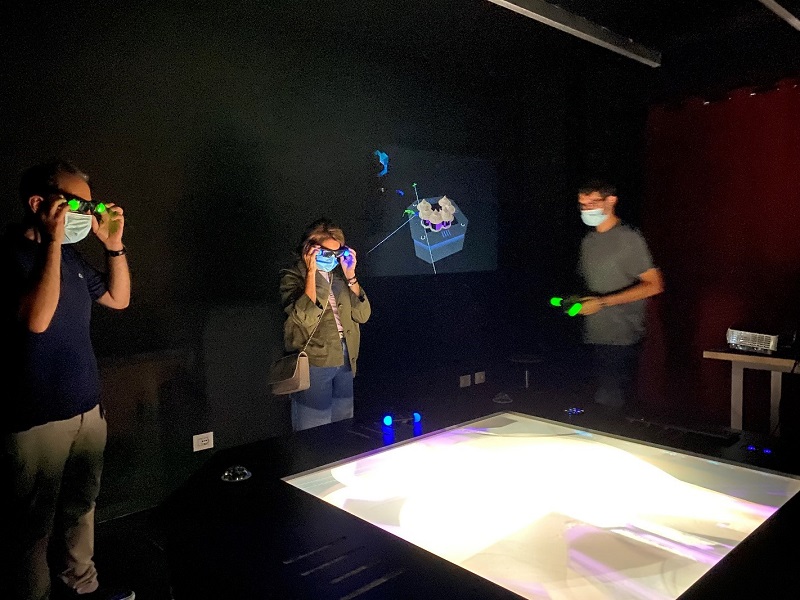 Exhibitions
Event Details
Physical and digital maquettes made by the students at LaborA – physical and digital modelling laboratory –during the Workshop Yasmeen Lari's Humanitarian Architecture will be exhibited in the open spaces next to LaborA and, by reservation of a guided tour , inside the Virtual Theatre and Rooms of the Holograms.
The workshop of the School AUIC occured on the occasion of the Honorary Degree in Architecture – Laurea Magistrale ad honorem in Architettura e Ingegneria Edile – awarding upon Pakistani architect Yasmeen Lari, zero-carbon champion and advocate of the poorest of the poor.
Participants deepened Lari's work both using advanced digital tools and making 1: 2 and 1: 5 scale prototypes of the LOG, a bamboo housing module aimed at self-construction very resistant to earthquakes. Students made prototypes of the following best-known humanitarian projects: three-dimensional digital reproductions, 3d printings and bamboo maquettes of the LOG Lari OctaGreen, Women Center, The Pakistani Chulah. Particular attention was paid to explore the study of vernacular – updated and enhanced – bamboo construction techniques.
Workshop Yasmeen Lari's Humanitarian Architecture
AUIC School, Politecnico di Milano | room 16.C.03 + LaborA
September 6th – October 11th, 2021
Reference Professor | Cassandra Cozza
Proposing Professors | Fabrizia Berlingieri, Emilia Corradi, Imma Forino
LaborA – physical and digital modelling laboratory | Cecilia Bolognesi, Renato Aiminio, Francesca Montaldo
Tutors | Simone Balin (holograms and digital modelling); Filippo Oppimitti (virtual theatre, 3d printing), Sara Anna Sapone, Arianna Scaioli, Andrea Sogja (digital modelling)
Students | Tassnim Abdallah, Futaba Amano, Claudia Caccin, Niousha Doroudian, Ahmet Kayagil, Elaheh Nezafat, Giovanni Ossorio, Francesco Pauletti, Ilaria Pellegrini, Micaela Podestà, Federica Ronzitti, Mahsa Salek, Benedetta Tomasina, Guiqiang Yao, Siman Zhang, Jiayu Zhang, Yue Zhong
Time
21 October 2021
14:30 at 16:30
Location
Politecnico di Milano - Nuovo Campus di Architettura (di fronte al Trifoglio)