15 March 2022 18:00Incontro con l'autore - Nicola Crocetti e l'Odissea di Nikos Kazantzakis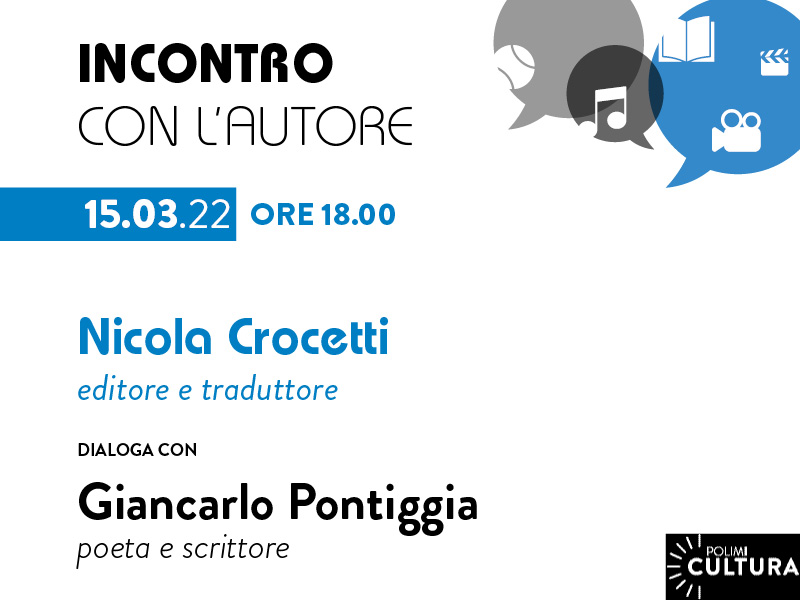 Talks
Event Details
From the author of "Zorba il greco", the extraordinary continuation of the Homeric epos.
Thirteen years of works. Seven drafts. Nikos Kazantzakis' masterpiece for the first time in Italy.
Nicola Crocetti was born in 1940, in Patras, Greece, where he spent his early childhood. He grew up and studied in Florence, then in the United States and in Paris. For over 60 years he has been living in Milan, where he has worked for 35 years in the publishing field and as a journalist. In 1981 he founded the Crocetti publishing house, specializing in poetry, which for 33 years has issued the monthly magazine Poesia, the most popular magazine of its kind in Italy and Europe, with a print run of 20,000 copies. In its 351 issues Poesia has published more than 3,600 poets and over 60,000 poems from 38 languages. Since 2020 the Crocetti publishing house and the magazine Poesia have become part of the Feltrinelli Group, one of Italy's most important.
Nicola Crocetti has translated thousands of pages of fiction from Greek and more than 100,000 verses of the major contemporary Greek poets (including all the poems of Kavafis and Seferis, numerous collections of Ritsos, Elitis and dozens of other poets). In 2020, after seven years of work, he completed the translation of the Odyssey by Nikos Kazantzakis, a poem of 33,333 verses, a continuation of the Homeric epos, published by Crocetti-Feltrinelli. This translation has received dozens of reviews and won several important prizes.
Nikos Kazantzakis was born in Crete in 1883 and died in Freiburg im Breisgau in 1957. Several times nominee for the Nobel Prize, he was a writer, poet, essayist, playwright, philosopher, journalist and translator, one of the greatest of the twentieth century. He wrote numerous novels and plays, and translated into Greek dozens of authors from different languages, including Nietzsche, Goethe's Faust and Dante's Comedy. His masterpiece is the Odyssey, a poem of 33,333 verses, a sequel of the Homeric poem.
Giancarlo Pontiggia (1952) lives in Milan. His poetry collections are Con parole remote (Guanda, 1998), Bosco del tempo (Guanda, 2005)— republished in the comprehensive volume Origini (Interlinea, 2015)— and Il moto delle cose (Mondadori, 2017). For the theater he has written Stazioni (Nuova Magenta, 2010) and Ades. Tetralogia del sottosuolo (Neos, 2017). The dialog Icaromenippo (La Vita Felice, 2017) was inspired by the diatribe tradition. Essays on poetics and reflections on literature are collected in the volumes Esercizi di resistenza e di passione (Medusa, 2002), Lo stadio di Nemea (Moretti & Vitali, 2013), Undici dialoghi sulla poesia (La Vita Felice, 2014), Nuovi dialoghi sulla poesia (Amos, 2022) and Origine (Vallecchi, 2022). He translates from French (Sade, Nerval, Mallarmé, Valéry, Céline, Supervielle, Bonnefoy) and from Latin and Greek (Sappho, Pindar, Sallust, Rutilius Namatianus, Disticha Catonis).
Introduction by Marco Vitale, Archivi Storici del Politecnico di Milano
The event will be held in italian
For further information click here
Location
Politecnico di Milano, Aula Magna
Piazza Leonardo da Vinci, 32 - Milano