30 January 2020 10:00 at 13:00High-Speed Rail in Europe: Case Studies and Perspectives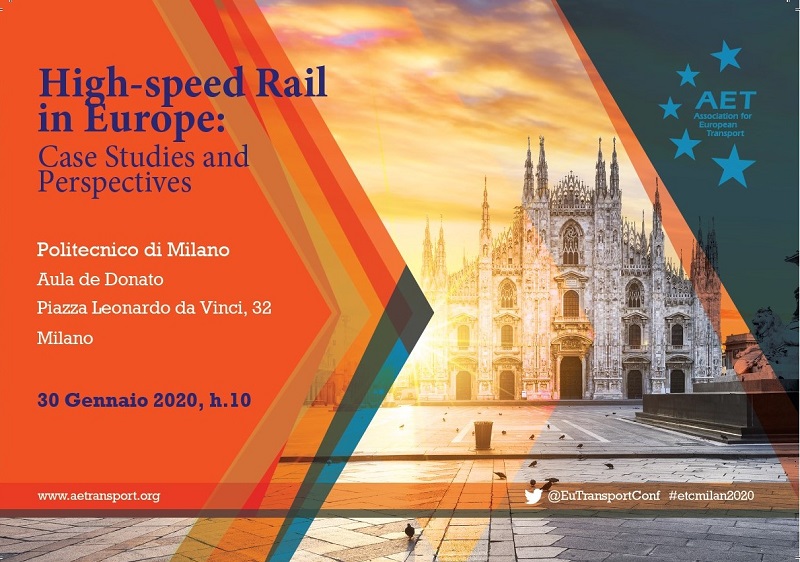 Conferences
This conference has been organised by the Association for European Transport  – AET with the Politecnico di Milano as an introductory event to the 48th European Transport Conference, 9 – 11 September 2020.
High Speed Rail in Italy has been in operation since 2009. There is now discussion about how to take the development forward. Should it only be for passengers or also for freight? How can the cost of investment be justified? Should maximum design speeds be limited to reduce the costs?
The conference will benefit from noted speakers from academia and the rail sector and it promises to be a lively and informative event.
PROGRAMME
Registration: 10,00 -10,30
10,30-11,00
Marco Bocciolone – Welcome
Politecnico di Milano, Director of Dipartimento di Ingegneria Meccanica

Pierluigi Coppola – Introduction
Politecnico di Milano, Chair of the Association for European Transport
11,00- 11,45
KEYNOTE SPEECH "Ten years of High Speed Railways in Italy: results and future perspectives"
Ennio Cascetta*, University of Naples "Federico II"
11,45-12,45
Discussion and debate
Renato Mazzoncini, Politecnico di Milano, Italy
Paul Amos, Transport Strategy and Management Consultant, Germany
Neil Bichard, HS2, UK (tbc)
Hermann Maier, Jacobs, UK
12,45 Conclusions
*Editor of the book "Perché TAV. Risultati, prospettive e rischi di un Progetto Paese" – Sole 24ore Ed.
Time
30 January 2020
10:00 at 13:00
Location
Politecnico di Milano, Aula De Donato
Piazza Leonardo da Vinci, 32