9 June 2022 15:00 at 20:00Fuorisalone 2022: Visit to the Gianfranco Ferré Research Center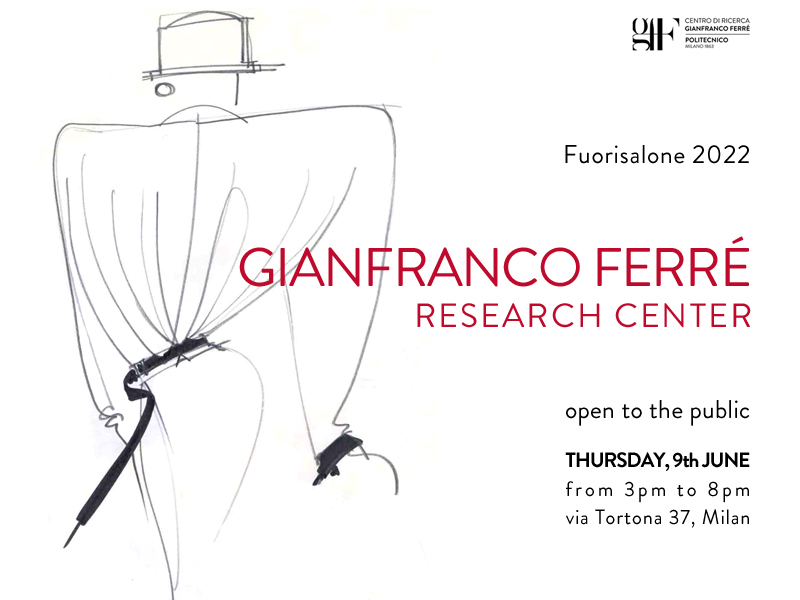 Open labs
Event Details
The Politecnico di Milano opens the Gianfranco Ferré Research Centre to the public for Fuorisalone 2022.
On Thursday 9 June, from 3 pm to 8 pm, visitors will be welcomed at the building of the former Gianfranco Ferré Foundation designed by the architect Franco Raggi to view the precious archive recognized as heritage of "particular cultural interest" by the Ministry of Cultural Heritage and Activities – Archival Superintendence for Lombardy, which is now part of the Historical Archives of the Politecnico di Milano.
The researchers at the Politecnico di Milano will guide visitors within the archive, including sketches, technical drawings, photos, clothes and accessories, objects, books, magazines, films, press reviews, writings, lessons and notes by the designer and will present exclusively to the press the first results of the research aimed at the increased exploitation of the Ferré archive using new technologies such as AR/VR and digital twin.
The Gianfranco Ferré Research Centre, Digital Innovation for Creative and Cultural Industries was established in December 2021 by the Politecnico di Milano following the Ferré family's donation of the archive and the building of the historic Gianfranco Ferré Foundation.
Under the coordination of the Design Department's Fashion in Process Research Laboratory, the Research Centre intends to systematize the characteristic technical and scientific know-how and the culture of design of the Politecnico di Milano with the tangible and intangible heritage relating to the history, culture and techniques of fashion preserved and promoted by the Gianfranco Ferré Foundation since 2008.
The visit will last 45 minutes. Admission is free upon registration in one of the time slots indicate 3pm / 4pm / 5pm / 6pm / 7pm.
The Center will remain open on 9 June from 3pm to 8pm.
Time
9 June 2022
15:00 at 20:00
Location
Centro di Ricerca Gianfranco Ferrè
via Tortona 37 , 20144 Milano