21 September 2020 until 29 January 2021Design Alpino – Sport invernali: cent'anni di passione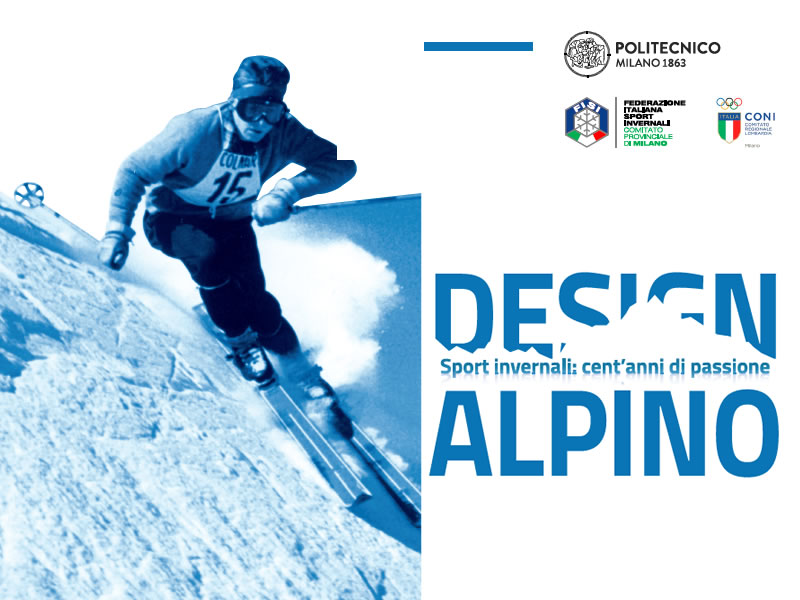 Exhibitions
Curated by Aldo Faleri
Under the patronage of Coni and the Italian Winter Sports Federation
ATTENTION: the exhibition is currently suspended. It will be open again (until 29 January) when the provisions allow. In the meantime you can see the video presentation on the site "Archivi in mostra".
Booking required by sending an email to archivio@polimi.it or by phone at 02.2399.5703
Exhibition space of the Politecnico di Milano Historical Archives
Building B1, ground floor
Campus Bovisa – via Candiani 72, Milano
monday-friday,  9.30 – 13
Guidelines for access to exhibition room
Presentation
Alpine Design is back in the exhibition room of Historical Archives. After a first appointment in 2018 dedicated to refuges and bivouacs in the delicate ecosystem of the mountain, the attention now shifts to the relationship between design and sports performance, retraced through the various editions of the Winter Olympic Games that have followed one another over the years since Chamonix in 1924, seeing Italy as the organizing country twice – and a third will be in 2024. The exhibition presents testimonies and objects that have made the history of winter sports and that talk about their evolution in terms of design and experimentation of materials, from classic ones such as wood and wool to the most innovative and lightweight fibers.
Reopening an exhibition hall, for the first time at the Politecnico after the months of closure, with an exhibition dedicated to winter sports, and their research through a path that involves technology and nature in equal measure, seemed to us a significant act of trust at the beginning of the new academic year, when the students, to whom the exhibition is primarily addressed, return to our classrooms.
Time
21 September 2020 until 29 January 2021

Location
Politecnico di Milano, Archivi Storici (Bovisa)
via Candiani, 72 - Milano