14 February 2019 14:00DensityDesign Open Day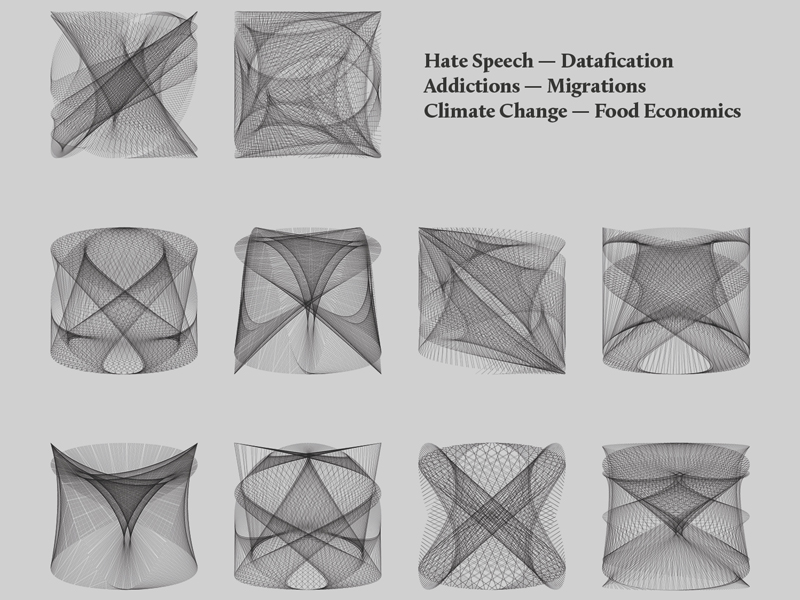 Conferences
Students of the Final Synthesis Studio of the Masters Degree in Communication Design present their results.
In the 2018/2019 edition of DensityDesign Final Synthesis Studio students learn to observe, describe and represent controversial phenomena from different perspectives. Starting from six macro-topics – datafication, climate change adaptation, addictions, food economics, hate speech, migrations – students chose one controversial issue, performed (data-driven) analyses and visually communicated the results.
In this context, Communication Design is used to access and understand the increasingly complex amount of data and information shaping our world.
Students are invited to use visualisation techniques across multiple phases of the research process: to describe and understand the observed phenomena; to share methods and results; as a strategy to move from understanding to action.
14:00 Introduction – Paolo Ciuccarelli, DensityDesign Research Lab
14:15 Presentation – Pau García, Domestic Data Streamers
15:00 Students presentations (groups 1-5)
16:15 Break
16:30 Students presentations (groups 6-10)
17:45 Concludes
B2 – Piano terra
18:00 Exhibition opening
18:15 Aperitivo
event on Facebook
Time
14 February 2019
14:00
Location
Politecnico di Milano, Edificio B2, aula B2.1.15
via Candiani, 72 - Milano