Da mercoledì 3 aprile 2019 a venerdì 5 aprile 2019Call for Papers | International Conference "Designing Sustainability for All"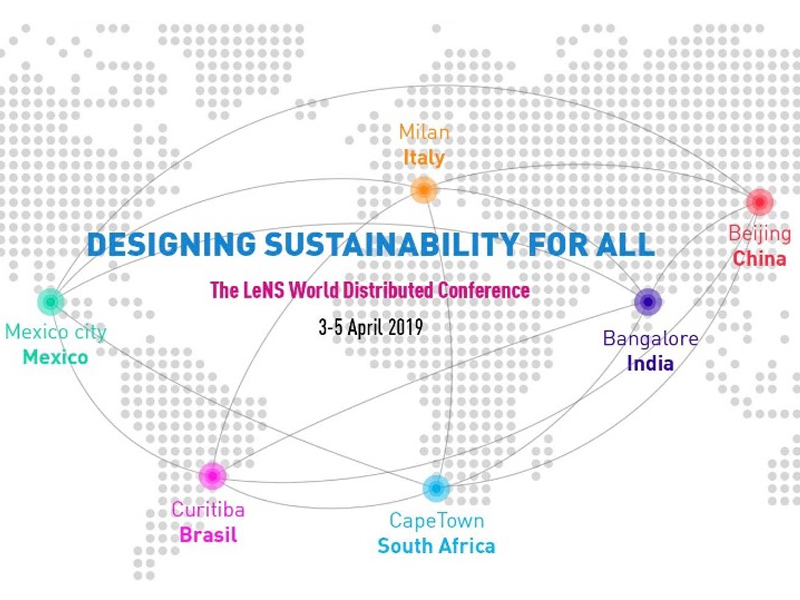 Conferenze
Call for Papers
It is a unique worldwide event, distributed for the first time to 6 venues around the world. The conference will take place simultaneously in Beijing (China), Bangalore (India), Cape Town (South Africa), Mexico City (Mexico), Curitiba (Brazil), and Milan (Italy), and in each of the six venues it will be possible to listen to presentations happening in the other ones.
The event organised by LeNS – the Learning Network on Sustainability – is more than a conference. It is a meeting point for those who want to learn and share about design for sustainability with a multicultural, open and copyleft echoes. LeNS vision is to foster a new generation of designers (and design educators and researchers) capable to effectively face the challenge to envision, design and contribute to the transition towards a sustainable world for all.
We are waiting for your abstracts (up to 1500 characters) until 31 October 2018.
Open access proceedings will be published with full papers of both oral presentations and posters.
The Conference Call for Papers is targeted to a broad range of researchers, educators and practitioners interested in and/or working with sustainable design. We welcome works addressing various sustainability topics, including, but not limited to:
– Design for Sustainable Materials and Energy
– Product Design for Sustainability
– Product-Service System Design for Sustainability
– Design for Sustainable Distributed Economies
– Design for Sustainable Social Innovation
– Design for Sustainable Behaviour Change
– Design for Circular Economy
– Design for Sustainable business models
– Design for Sustainable Indigenous Practices and Informal Economies
– Design for Sustainable Policies for Sustainability
– Design Education for Sustainability
The conference is free and meals are offered!
Get further information on dates, speakers, venues and submissions: www.lensconference3.org
Read more about LeNS network: www.lens-international.org
Date e orari
Da mercoledì 3 aprile 2019 a venerdì 5 aprile 2019

Luogo
Politecnico di Milano, Campus Bovisa