12 May 2022 until 14 May 2022Photonics is the new technology of our millennium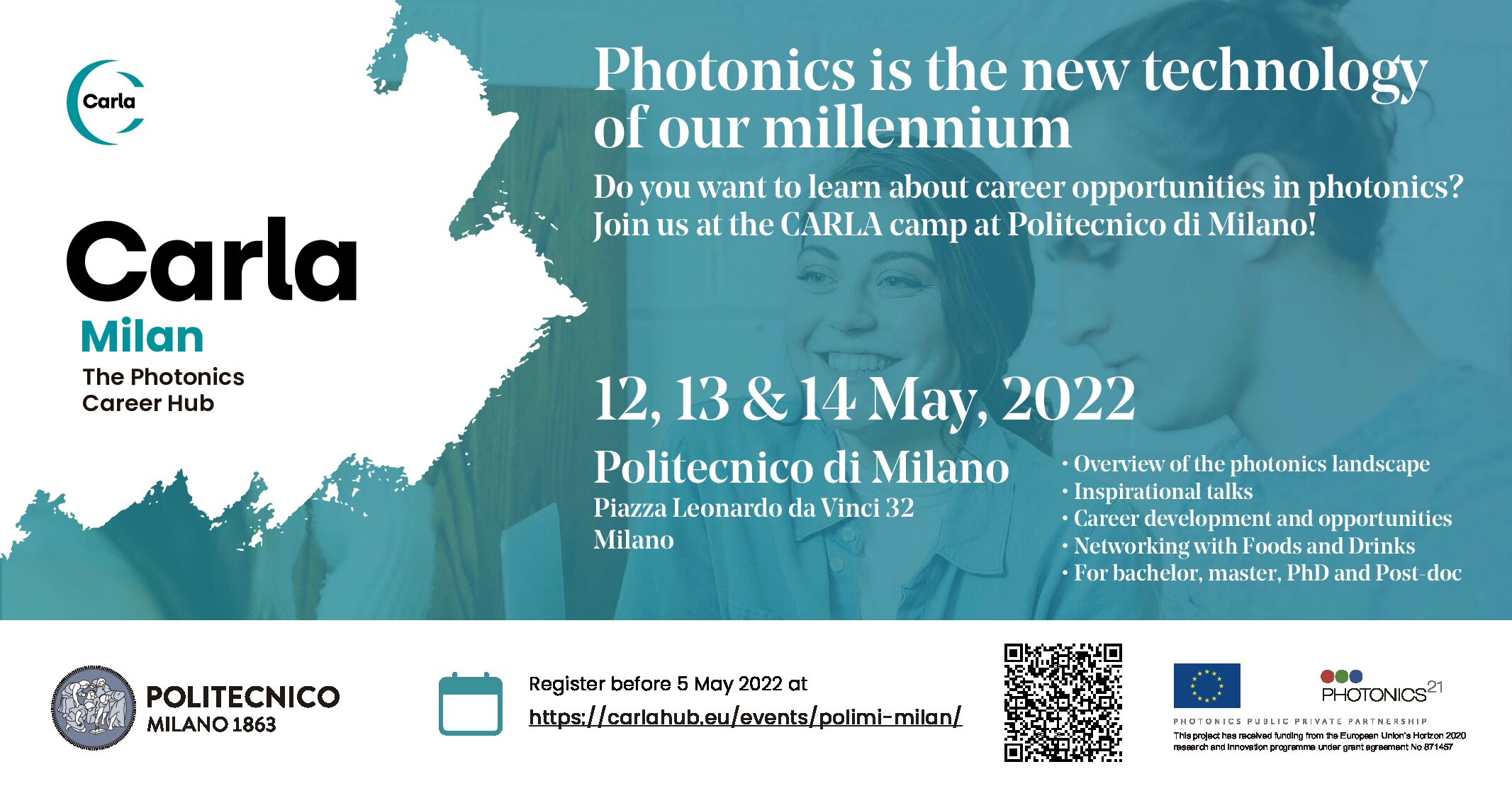 Other
Event Details
Do you want to learn about career opportunities in photonics?
Join us at the CARLA camp at Politecnico di Milano!
On 12, 13 and 14 May 2022, Politecnico di Milano will host an in person CARLA camp around careers in photonics.
Together with the industrial, entrepreneurs and academic photonics communities, we are creating inclusive pan-European photonics career camps aimed at university students and early-stage researchers (graduates, undergraduates, Master's students, PhD students and early stage post-docs) from all STEM (Science, Technology, Engineering and Mathematics) and Photonics focused areas. 
It will give you a peek into the vast opportunities that the photonics careers landscape offers and provide you with a roadmap for better employability.
Date and Time: 12, 13 & 14 May 2022
From 16:00 to 21:00 on Thursday 12th and Friday 13th of May
From 9:30 to 13:30 on Saturday 14th of May
Location: Politecnico di Milano, campus Leonardo
Listen to inspiring presentations about Photonics careers and testimonials and network with experts from academia, industry and entrepreneurship in a casual atmosphere with food and drinks.
Check the preliminary program and register before 5 May 2022 at this link! 
Follow CARLA on LinkedIn and Instagram to receive updates on the event and for weekly posts about careers in photonics!
Time
12 May 2022 until 14 May 2022

Location
Politecnico di Milano
Piazza Leonardo da Vinci, 32